Your Epic Guide to Page, Arizona
Your Epic Guide to Page, Arizona
I recently visited Page, Arizona during my School Spring Break (yes, I work in public schools)! The sights around this little town are second to none! I have put together a list of must-see places around Page!(Including some tips and recommendations)
Yes, Antelope Canyon is a MUST!
Most likely your Page, AZ itinerary already includes a stop at this beautiful and unique location…but which canyon should you visit, upper or lower? How far in advance should you book? What can you bring along in the canyon?
Upper Canyon!
I have heard great things about both Upper and Lower Antelope Canyon but ultimately read that Upper Antelope Canyon is a tad more covered and can create the iconic light beams that you see in photos (which I found out can only be seen at certain times of year…primarily July). Try and snag a tour time between 11am and 1pm — these are the times when the canyon has more light entering in and creates that orange-y glow on the canyon walls (and the light beams depending on when you visit)!
Tickets, Information and Arrival
Visiting Antelope Canyon DOES require a tour guide! Personally, I recommend booking a tour as soon as you know the dates you are visiting the area. I made the mistake of trying to book a week before our trip and most all tours were completely sold out. I was lucky to find tickets through Tours4Fun for the same price as other companies and at one of the peak times for light in the canyon.
DO arrive to your tour more than an hour early! Yes, I said MORE than an hour early! Our instructions on our booking said to check in an hour prior to the tour…what we didn't realize is that if you are even a minute late for that check in they will cancel your ticket. We were lucky and one of the employees vouched for us and had witnessed us standing in line (which is what made us 2 minutes late for check in).
When the booking says you can not bring bags or backpacks…they mean it! Not even a small purse is allowed in the canyon due to the small spaces inside. I took only my camera with one lens that I held during the tour and my phone in my coat pocket.
Photographing Antelope Canyon
Photographing the canyon on the standard tour is a challenge. However, the tour guides know most everyone wants a few good photos of the canyon! Our guides had spots inside the canyon where they would stop and wait for other groups to move out of photo bomb range so that you could get the photos you wanted. You only had maybe a 3-5 minute window before the next group started creeping up but that seemed to be plenty of time to grab a few shots! Our guide would even take photos for you if you wanted a picture of yourself or friends/family!
Antelope Canyon also offers photography tours in which photographers are better able to get the photos they want with controlled crowds and the ability to bring a tripod. Guided assistance is offered with tips on camera settings for photographing the canyon and special angles. This tour is a bit more expensive than the regular tour (ranges around $125-$300 per person).
*Note: Sand falls from the top of the canyon, especially if it is a windy day. You may want to bring something to protect your camera from the sand! My brand new Sony was covered in sand by the time I was done with the tour.
Horseshoe Bend is another spot you can't miss near Page, AZ!
Currently, Horseshoe bend is going through renovations to make this sight more accessible to everyone as well as adding more parking to accommodate the increasing number of tourists visiting this location. There is a new viewing deck for those who do not want to walk right up to the edge of the canyon to see the entire bend. This site is set to have approximately 2 million visitors this year!
For photographing Horseshoe Bend, I recommend going later in the day and setting up for a sunset shoot, as sunrise creates shadows throughout the canyon and isn't quite as photogenic. We went about 45 minutes before sunset and grabbed a prime photo spot!
Although, Toadstool Hoodoos isn't one of the well-known, iconic spots around Page… it turned out to be one of my personal favorites on our trip!
The Toadstool Hoodoos are located about 20-30 minutes North of Page, AZ, just across the border of Utah in Grand Staircase National Monument. This short hike (around 1.5 - 2 mile RT) was scenic and lead to some amazing landscape! We were pleasantly surprised at the lack of crowds on this hike and even had the hoodoos to ourselves for a while. I 100% recommend this hike for anyone wanting to experience a unique, scenic location without the crowds!
Located South of Page (about an hour drive to Lee's Ferry), Marble Canyon is an absolute gem in Northern Arizona! The Spencer Trail (pictured) was recommended by a local as one of his personal favorite hikes in the area and I bet you can see why! Not only did we have amazing views the entire hike but we were also the only ones on this trail! The Spencer Trail is approximately 3.8 miles RT and is very steep. If you have trouble with steep ledges and heights this trail may not be for you — I had to turn back towards the top due to my issues with heights and vertigo.
Yes, it is a bit of a drive but it was extremely scenic the entire way! If you have a few days to explore the area, definitely take the time to head out to Marble Canyon!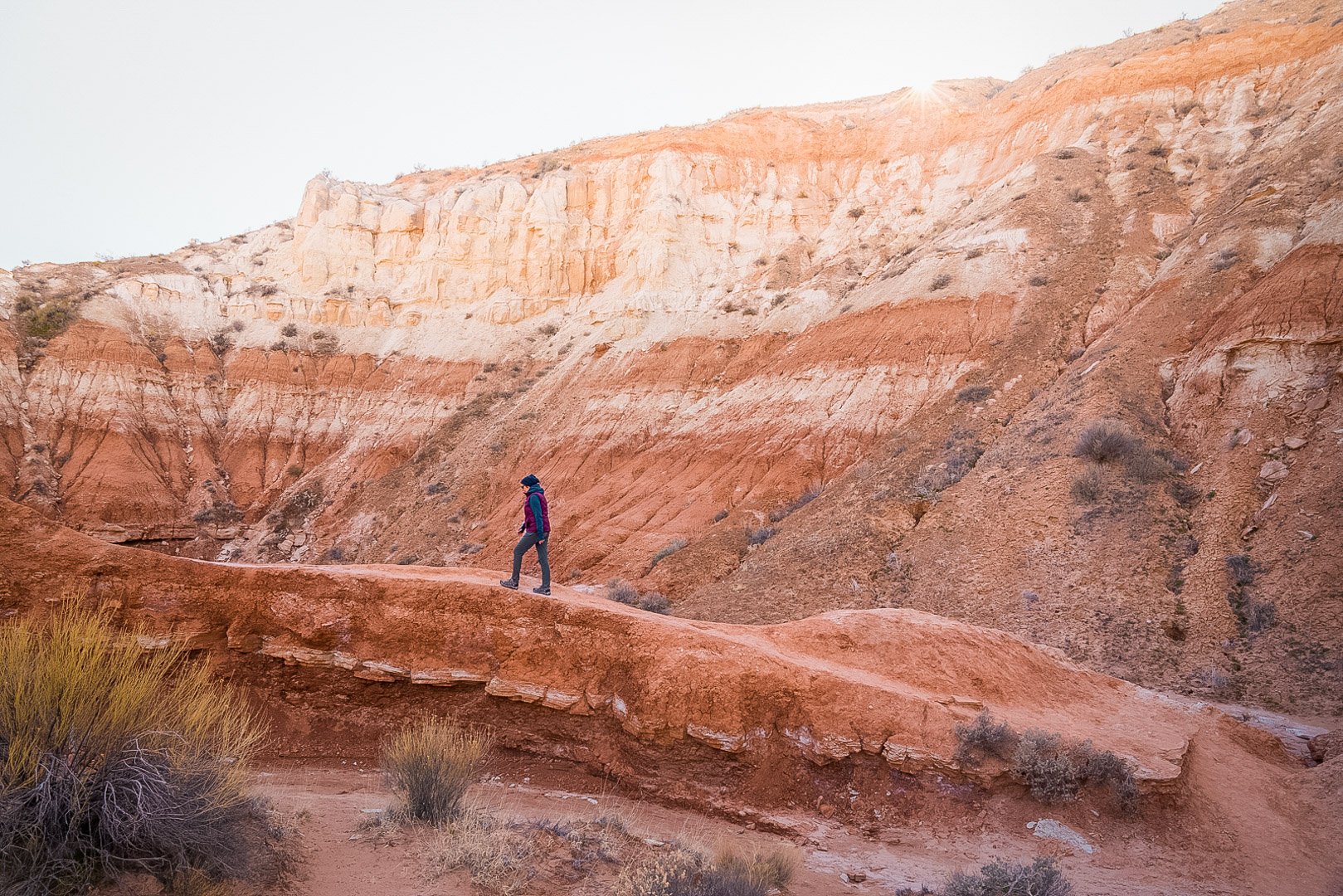 For our trip to Page we rented a room at a small, local motel called Lulu's Sleep Ezze at around $30 a night. It was a great experience and within easy walking distance to a bunch of restaurants and shops! The owner of Lulu's was very accommodating and gave us hiking tips and such. We also had access to a shared kitchen and fresh coffee made for us every morning during our stay.
My mom and I stumbled upon some awesome spots to grab food in Page – you gotta eat at Blue Buddha! We ended up eating at this spot twice during our 3 day stay, it was delicious!
A nice place to grab coffee and some breakfast is Canyon Crepes Cafe, a yummy and filling breakfast for those heading out for a long day of hiking, boating, etc.
Page, Arizona is a magical location to visit, perfect for all of you outdoor lovers!
Have questions? Planning a trip to Page? Drop us a comment below! Have you been to Page? What was your favorite spot in this area?
Cheers!
Kristine