8 Amazing Experiences to have in Tenerife, Spain
When we told friends & family that we we were planning on traveling to the small island of Tenerife in the Canary Islands this summer, most responded with "where the heck is that?" or automatically assumed our visit would include yellow sand beaches, colorful cocktails and resorts that Tenerife South is well known for. In fact, our time in Tenerife was quite the opposite of what was assumed!
We elected to spend the majority of our trip in the North of Tenerife, as our focus was geared towards experiencing the historic places and culture that the North of Tenerife is known for, we set out to explore the lesser-known - more natural side of the island to bring you the 7 Amazing Experiences to have in Tenerife, Spain!
A Brief History of Tenerife…
The original inhabitants of Tenerife were primitive cave-dwellers called Guanches who arrived from North Africa some time around 200 BC. It wasn't until 1496 AD that the Spanish conquered the island and it became an important trade link between Europe and the Americas in the 18th Century. Tenerife became the last stop before heading off to the Americas and the first stop back - resulting in the island becoming home to one of the largest collection of exotic flora in the world! The traffic also created an exciting mix of cultures and architectural styles.
Teide National Park is NOT to be missed!
Mount Teide is at the heart of Tenerife, sitting high above the coastline, this stratovolcano is the highest peak on Spanish soil sitting at 3,718 meters. The unique topography of the island results in a surreal "above the cloud' experience as thick clouds gather around the tree line resulting in some stunning views and sunsets. The red, brown, and black rock wasteland creates a very unearthly feel, but it was a joy to hike around and explore the area!
*Bring some sun protection and a light jacket, the sun is very hot but it can cool off so very quickly.
So must-do experiences to have in Teide National Park are….
1) Teide Cable Cars: For around 13.50 Euro per person, you can take the cable car up Mount Teide. Once at the top, you are able to hike around the various trails for a panoramic view of Tenerife and Teide National Park.
2) Catch an above-cloud sunset in the Western part of the National Park: As mentioned before, Teide National Park has almost a permanent cloud line below the national park. We took an evening to drive to the western part of the park to catch an above-cloud sunset which was absolutely spectacular!
3) Stargazing or Astrophotography from Teide National Park: Being that the clouds rest below Teide National Park, there is rarely any cloud cover of the park itself which makes it an ideal place to stargaze or to practice your astrophotography!
4) Hiking in Teide National Park: The park has many hiking trails for those who enjoy exploring by foot! We did Alto de Guajara hike which was a very steep but the views were awesome. If you are looking for a hike that is less strenuous, try the Roques de Garcia Loop which is also a nice, scenic hike!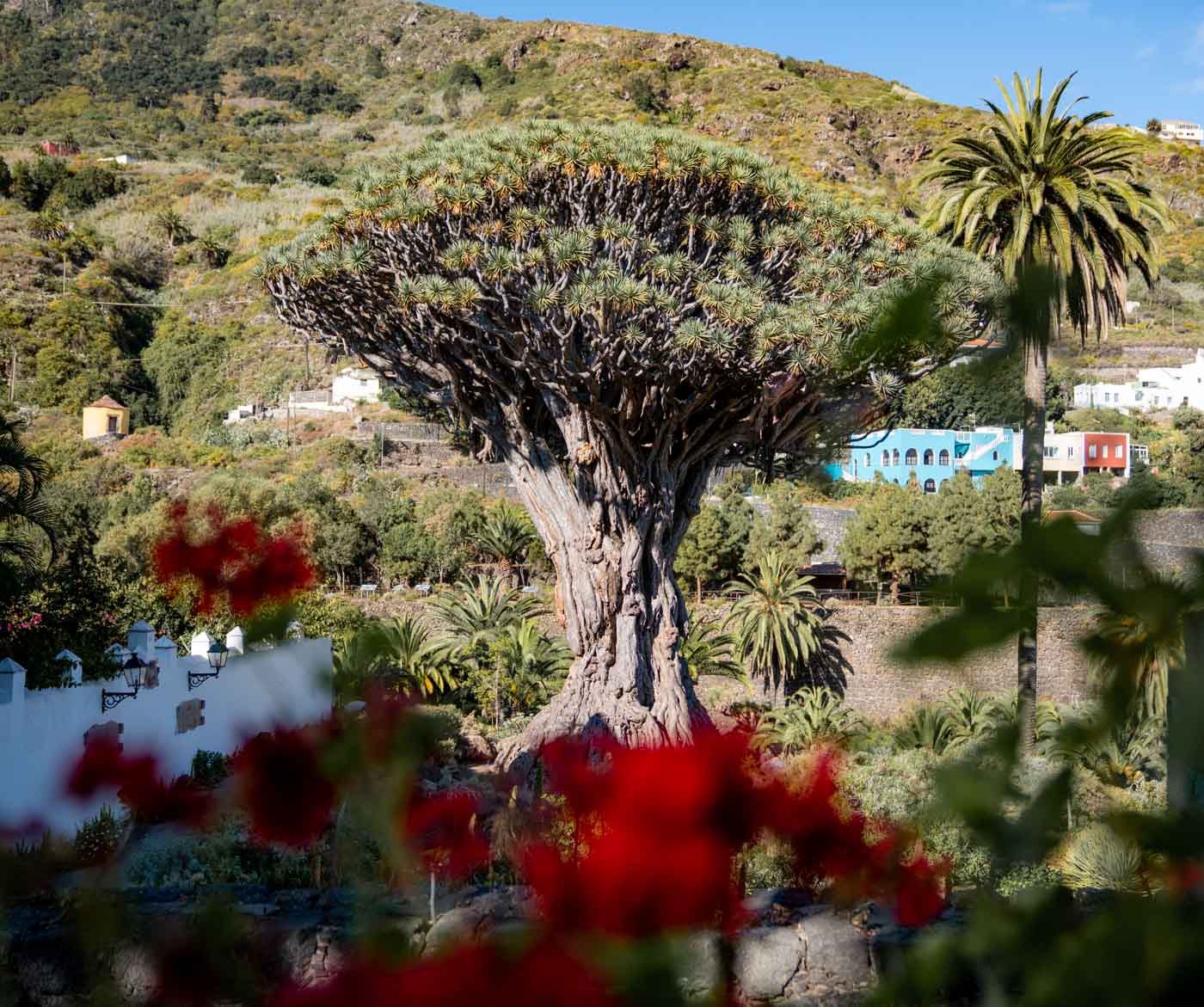 Both Icod and Garachico are charming little towns along the coast of North-Western Tenerife.
Icod (Icod de los Vinos rather) is known for the Dragon Tree, a famous 1000 year old tree located near the town's central plaza. The town plaza also had many local's who had set up booths to sale local, hand-made goods. We loved the laid-back atmosphere of this quaint, little town!
The town of Garachico was built on top of a lava flow overhanging the ocean which makes it a unique spot in Tenerife. Garachico boasts a charming town plaza (we had an amazing espresso stop at the town gazebo while there) and rock pools formed from the lava flow, which are used as natural swimming pools.
*Garachico's rock pools were under repair during our visit due to flooding but will re-open soon.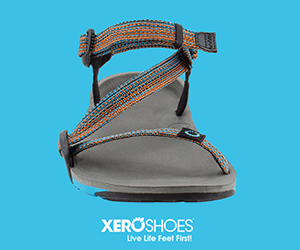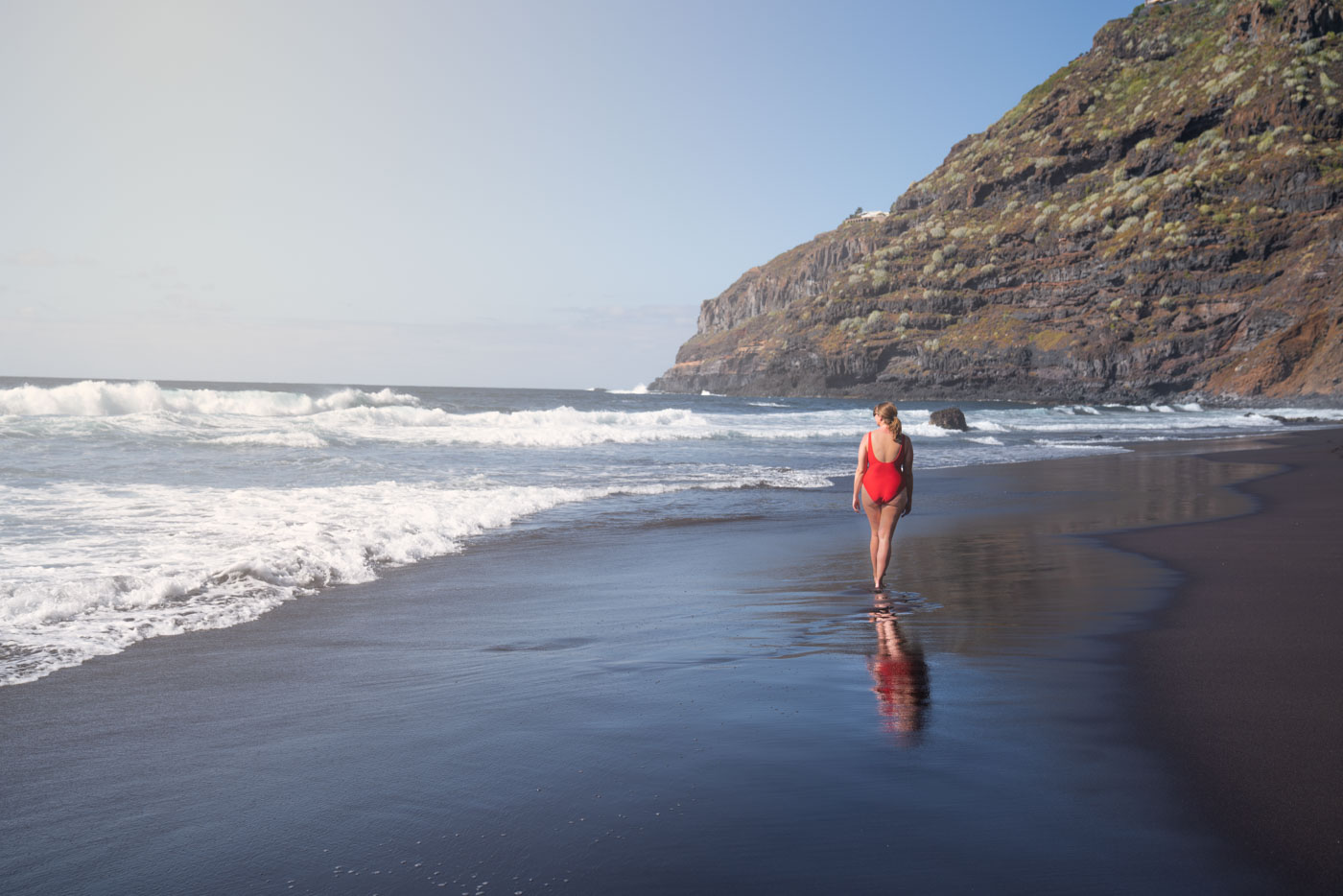 Tenerife North is home to many black-sand beaches, most of these surrounded by dramatic cliff faces and bright blue waters that make for some amazing beach-side scenery. We hit up a locals beach near Puerto de la Cruz (pictured above), which instantly became one of the most scenic beaches I have ever witnessed. Check out Playa El Bollullo & Playa Los Patos during your stay to enjoy these unspoiled, natural beaches!
Masca is a charming little village in the South of Tenerife nestled in a gorge.
The views from this small town are spectacular which makes it a fun spot to grab lunch and a coffee or beer with an amazing backdrop. The drive to and from is also spectacular, but make sure you time your visit to earlier or later in the day to avoid the tourist buses.
*Side note: The Masca Gorge hike is currently closed for repair but shall reopen again soon.
Tenerife boasts some of the most prized wines in the world!
This dramatic island boasts seven micro-climates! This large variety of altitude, soil, and weather allows for the growth of some amazing grapes.
When disease wiped out much of the vineyards in the 19th century the Canary Islands were left untouched by the plague, this lead to Tenerife being home to one of the oldest vines in the world. Situated in the Suertes del Marques Vineyards, this massive vine is well over 200 years old (out paced only by a vine that is 240 years old on Lanzerote). As the traffic point between the Americas and Europe there are grape influences from both continents, which have created some very unique stains.
A winery that is on the forefront of "liquid tourism" in Tenerife is Monje Winery which has amazing views of El Teide and overlooks the town of El Sauzal. This family run winery is not a new kid on the block, but are quickly exploring new ways to bring in tourists and expand wine culture, and are one of the few wineries offering wine tours of the island! One thing you MUST check out is their "WINE & SEX" event, which explores wine and sensuality - with a combination of music, food, and wine to invigorate the senses!
In general Tenerife Wines are served young, with the intent to bringing forward the flavors of the grape and soil - instead of the barrel or oaking - make sure you try some of this fruity, flavorful wine! A great place to start would be Casa del Vino de Tenerife - an unbiased, central location for all things Tenerife Wine. With an amazing museum on the history of wine making on the island, as well as production and grape information, there is a fabulous tasting room with rotating wines from all over Tenerife. PLUS, they have a store where you can buy the bottle with no additional up-charge!
Tenerife's Growing Craft Beer Scene
The island may be known of wine but it's beer scene is beginning to turn some heads…
In addition to wine, Tenerife is becoming home to a blossoming beer culture. The same pallet that has cultivated an amazing wine experience is lending itself to the craft beer world. Craft breweries, truly independently owned and operated, are popping up all over the island - often with American brewing influence - you can find a wide variety of styles and tastes. Due to cost restrictions nearly all beer being brewed in Tenerife are ales, but the brewers are knowledgeable, hardworking, and very creative (borderline ambitious). You can find the products bottled in quite a few bars across the island or in on tap (much more rarely) at the brewery.
It was a pleasure to sit down and chat with the folks from Tacoa, the oldest microbrewery on the island. Founded in 2001 with the aim to bring craft beer to Tenerife, they are the oldest craft brewery not only on the island, but in the whole of Spain! While maintaining a "locals-friendly" lineup they are also being adventurous with some very "American-inspired" styles. Tacoa also sells home-brewing equipment and ingredients in the hopes of encouraging locals to branch out, brew, and explore! If you have a chance go by and check them out - you may even catch them bottling, a process that still requires them to hand stamp the expiration on every single bottle.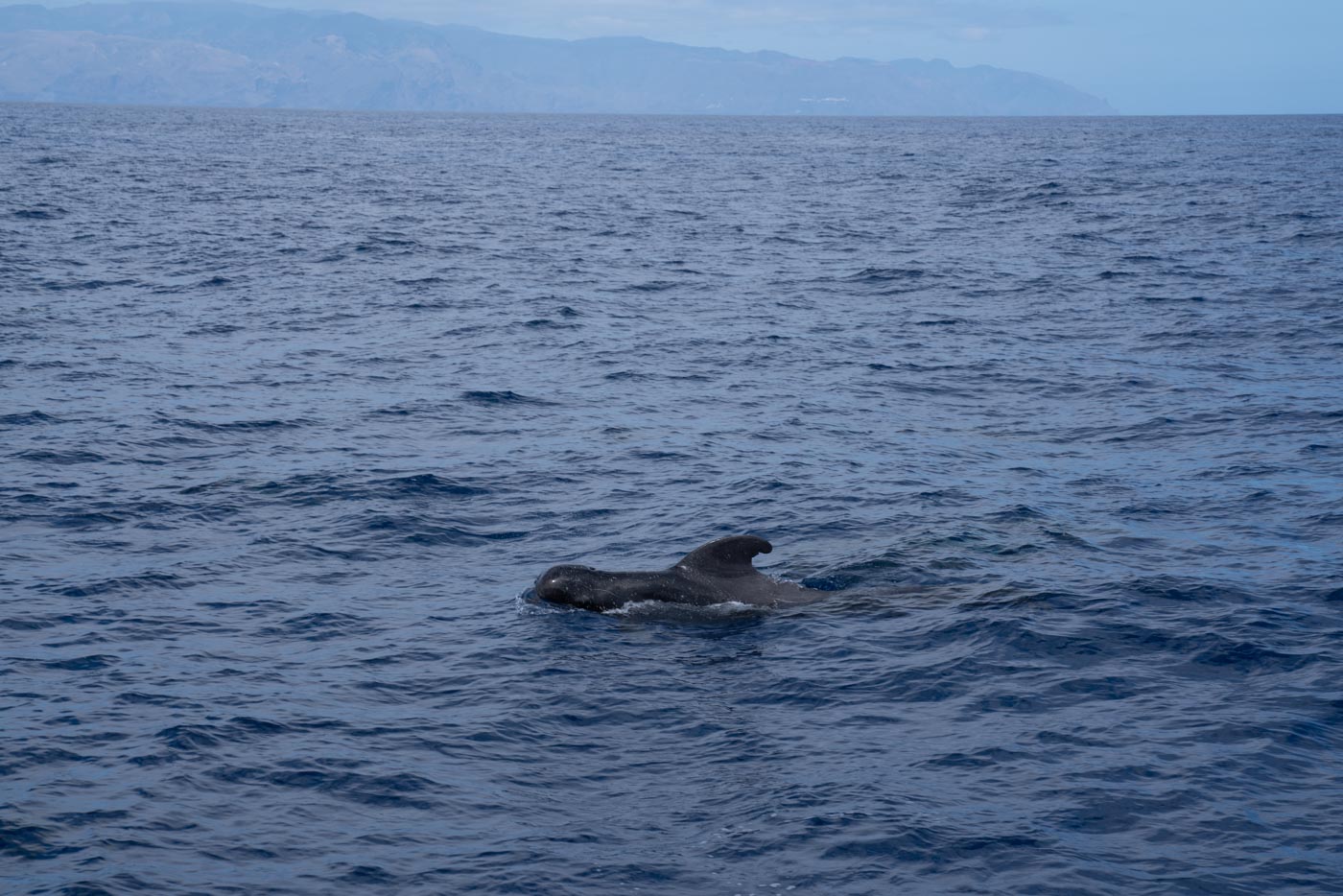 Whale Watching at Los Gigantes
Did you know that the Tenerife waters are home to up to 21 species of whales and dolphins?
We spent a morning out exploring the waters below the cliffs of Los Gigantes and were able to spot a family of pilot whales and bottle-nosed dolphins during our tour. Our whale watching tour was with Maritima Acantilados aboard the Nashira, which included lunch and drinks, as well as the option to snorkel in Masca Bay!
We were in awe of the Spanish Colonial architecture in these two cities!
Both La Orotava and La Laguna play host to some of the oldest buildings and houses on the island of Tenerife - we enjoyed our time exploring these quaint villages. Because of their proximity to the original port waters, these areas are among the oldest communities on the island. Some of our best memories came from an evening of papas, mojo sauce, and Tenerife craft beer at Bar Fariña 1920 in La Orotava. When visiting Northern Tenerife, make sure to plan a stop in these two Spanish Colonial cities and enjoy life at a slower pace - meandering through the cobblestone streets while admiring the unique mixture of architectural influences, flora, and ocean views.
Lodging and Restaurants:
1. We stayed in a rural house located near La Orotava with Rural las Llanadas. It was a fantastic experience, staying on a working farm outside of the city!
2. Tapas!!! I shouldn't need to say it, but Spain is famous for tapas and, as already mentioned, Bar Fariña 1920 is a fantastic place to eat where the locals eat! Traditional food/tapas served with culinary flare and combined with local craft beer and wine.
3. Guanchinches!!!! The Guanchinche is a very typical, and almost Tenerife exclusive, eating establishment. The quality is amazing, the food is served family style, and the prices are VERY reasonable. Make sure to order their own version of vino tinto or blanco based on your preference! Our favorite was Guanchinche La Casona located just at the top of La Orotava and had amazing views of the town all the way down to the sea!
Our experience in Tenerife was extremely memorable and a location we would love to return to someday! For us it was perfect location, with warm beaches and cool mountain retreats. The food, beer, and wine were excellent, the people welcoming and charming, and the beauty if the island was breathtaking - a truly wonderful trip.
Have you been to Tenerife or are thinking of visiting this charming island anytime soon? If so, drop us a comment!
Cheers!
Kristine & Jason
*We were guests of the Tenerife Tourism Board and hosted by Rural Las Llanadas but all opinions are our own.